by Lynn Robinson
She walks purposefully down the cobbled streets following the man with the orange umbrella. Around her, the smells of a plethora of cultural culinary delights assault her senses. She hears a cacophony of foreign languages being spoken around her. There is a sea of humanity encompassing her. She tries to keep her focus on that orange umbrella as it guides her to her destination – the Sagrada Familia, one of Gaudi's unfinished works.
The day began at 9:00 a.m. as the bus arrived to pick her up on the first part of the tour. It began with a tour of Gaudi's famous Casa Batllo. Gaudi designed this house for Mr. and Mrs. Batllo in the 1800s. Mr. Batllo was a rich textile industrialist. The house indeed was most unusual she thought as she perused the unusually shaped walls. Gaudi would not build a straight wall in his work. He was very interested in nature and wanted his lines to flow according to the natural movements found in nature. You can often see the movement of waves in his work. Gaudi also created furniture, and this absence of straight lines follows through in this work also.
Gaudi was a man ahead of his time. In his work, he tried to use recycled material, as he was a man very much interested in saving the environment. When building the church in Colonia Guell, an industrial park set up by businessman, Eusebi Guell in 1890, and the second stop on the tour, he had to cut down 10 trees. He stipulated that when construction was finished, at least 10 trees must be replanted to make up for this. He also used recycled materials in his building whenever he could such as glass, coal, and burned wood from refineries and factories.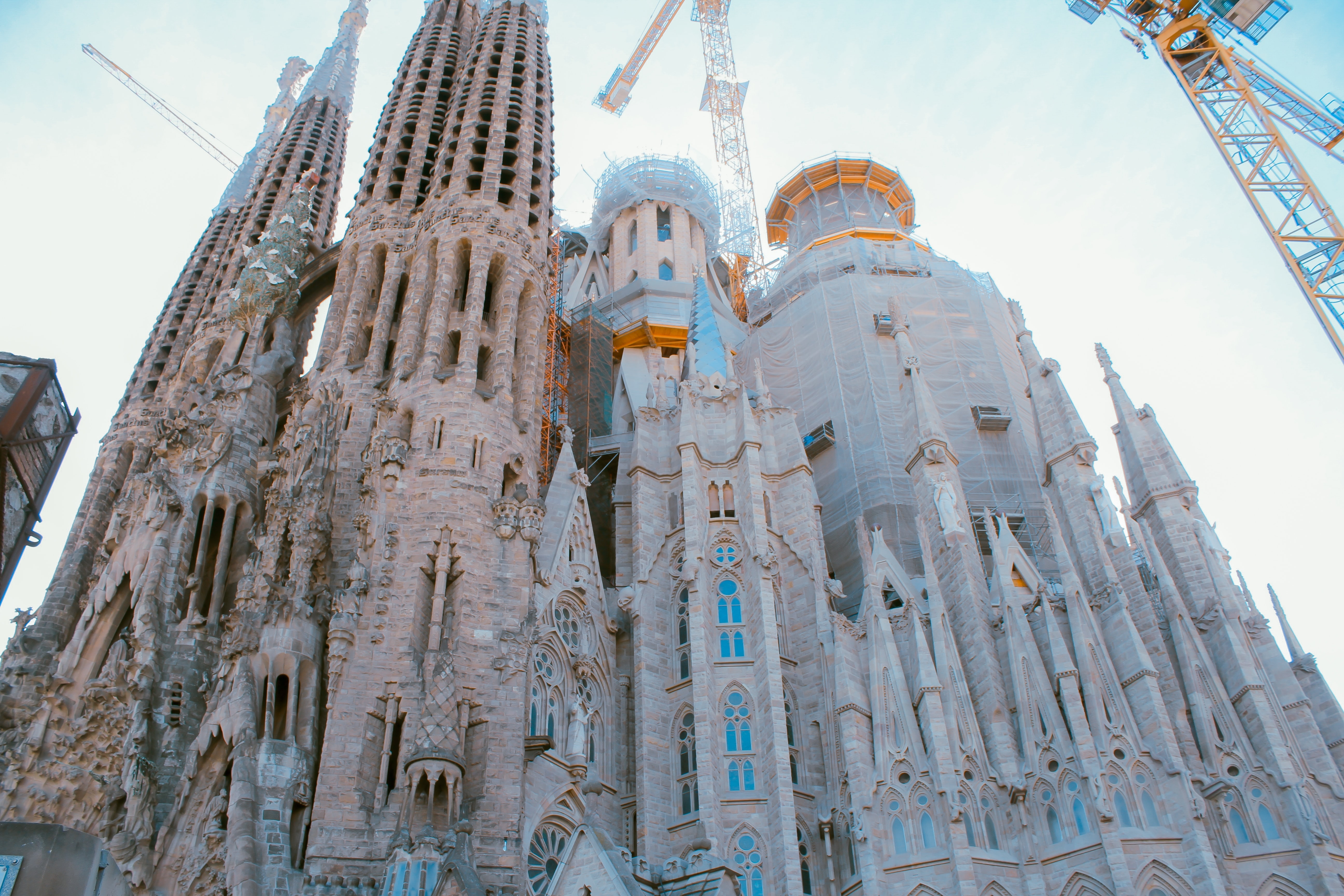 The Church at Colonia Guell was another one of Gaudi's unfinished works. He finished the lower level of the Church and had begun the second level when Guell died. His family were busy making uniforms in the factory at that time (WW I) and were not interested in keeping on their father's friend, or in finishing the Church, so Gaudi was let go before the Church was completed. It stands unfinished today, although it is still used as the Church for the residents in the area.
It was now time to stop for lunch and a short siesta. It seems to be the thing to do in Spain. It was time to whip back to the hotel room for a "freshen up" and a bite to eat before heading back to the bus for part two.
The afternoon began with a trip to Park Guell. As we snaked our way through the entangled human jungle, we were conscious of ever keeping that orange umbrella in our sights. It was our lifeline, our way back to the city. We learned that this area was where Guell and Gaudi had hoped to "make it rich" by building 60 homes for the "upper class". However, their plan didn't come to fruition. In the time of horse and carriage transportation, being that far away from the city wasn't viable. They were only able to sell two homes – one of those was to Gaudi himself, and one was to their accountant. However, there is evidence of Gaudi's work in the park itself, in bridgework, and stone masonry and bench construction. As with all "eccentrics" rumours abound, and so it was with Gaudi. He never married, and there were many speculations as to why this was the case. He was killed in 1926 at the age of 74. He was run over by a tram.
Today's tour ended at Sagrada Familia, one of Barcelona's most famous landmarks. It was consecrated as a basilica in 2010 by Pope Benedict XVI. Gaudi did not actually begin the construction of this Church. He took it over after the first year when the original architect was found to be spending too much money. Construction continues today, and it is said that the Church is now over half-finished. In the crypt, one will find the final resting place of Gaudi, genius, or madman, you be the judge!
She stepped off the bus, her head swimming with all this new-found knowledge. Not ready to head back to the hotel, she decided to enjoy an evening meal on Las Ramblas, the bustling touristy street in Barcelona. She strolled along Las Ramblas after being fully satiated, once again noting the sights and sounds of a European city, and how different they are to those in North America. She was able to think back to her days in Paris with fond memories. In fact more than once today she had heard the "Grand Avenue" in Barcelona referred to as the "Champs-Elysees". Yes, she agreed, there is a similarity. After doing some souvenir shopping, she headed back to the hotel, content, ready to reflect on her day, and in need of a cold, cold shower!!